•a monthly regular DJ event 'CONTACT' by Monsieur Raphael Sebbag!
http://t.clubberia.com/ja/artists/1440-Raphael-Sebbag/
http://www.powershovelaudio.jp/main/profile/raphael-sebbag.php
•every 2nd Friday
•entrance fee 1,500 yen [with 1drink]
door open 19:00
20:00-21:00 koyama
21:00-22:00 Raphael
22:00-23:00 Koyama
23:00-24:00 Raphael
24:00-25:00 morita
25:00-last Raphael
あの!レジェンダリーDJイベント、レギュラー化。
Latin Jazzに留まらぬ最新のプレイ必聴
当店の規模で聴けるのは貴重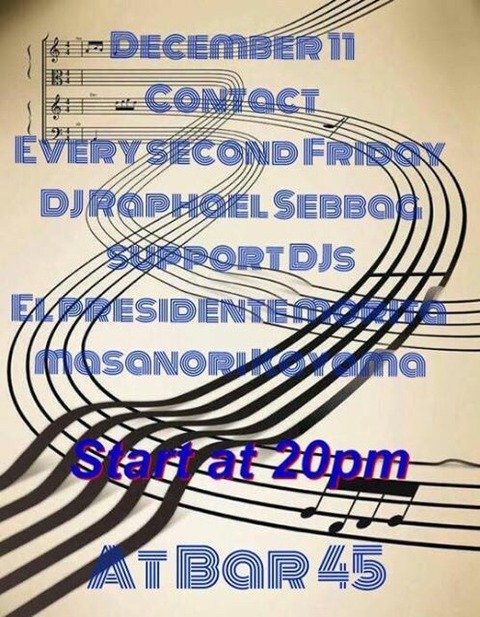 [Raphael Sebbag(ラファエル・セバーグ)]
モロッコ系フランス人のDJ。90年代日本にクラブジャズブームを巻き起こした ユニットUNITED FUTURE ORGANIZATION(U.F.O.)のメンバーで、20年に渡り東京のクラブ・シーンそのもの を切り拓いて来たゴッドファーザーである。音楽の神に愛されていると言っても過言ではない彼が紡ぎ出 す音楽は、今なお世界各国の様々なフィールドから絶大な支持を得ている。
French born of Moroccan descent, Raphael was an instrumental figure in establishing and supporting Tokyo's young club scene in the 90's, a scene he still participates in actively today. He was a member of the unit United Future Organization, key instigators of the Club Jazz sound. It wouldn't be too much to say he is truly favored by the gods of music, as everything he produces seems to garner overwhelming support across the board.
(Powershovel Audio公式サイトより)
https://ja.wikipedia.org/wiki/ユナイテッド・フューチャー・オーガニゼイション
http://www.powershovelaudio.jp/main/profile/raphael-sebbag.php
http://t.clubberia.com/ja/artists/1440-Raphael-Sebbag/
最新リリース
http://www.ultra-vybe.co.jp/post/OTLCD5110.html
https://www.youtube.com/watch?v=MOVzl5hl_ZQ
----------------------------------
add support DJ to this event
サポートDJ 1 [el presidente morita]
1990年代新宿CatalystのラテンイベントSuper CaribbeanでDJ活動開始。キューバ、プエルトリコ、ニューヨークからLatinJazz、歌謡曲まで広く選曲する雑食ラテンDJ。隔月開催のレギュラーイベント「下北沢ラテン兄弟」(@下北沢メンフィス兄弟。)の首謀者。
サポートDJ 2 [Masanori Koyama]
1963年神奈川生まれ。
アナログ盤をこよなく愛する。青春時代、吉祥寺にて素晴らしくアナログ的な先輩達の薫陶を受け、今日に至る。レコード会社に就職した時はまだ、新譜の受注アイテムには、レコード、カセット、コンパクトディスクの3種類が存在。そんな懐かしい時代を通過して、現在もアナログ盤を日夜聴きまくる、音楽愛好家。
数冊の音楽書籍、数種類の再発アナログ、コンパクトディスクの制作などに関わる。
現在、新たなパースペクティブを模索しながら、新規企画を進行しています。